Our Programs and Initiatives
Family Reading Partnership programs and initiatives provide books and encouragement for families to make reading aloud to their children a part of everyday life. Click on any program below to learn more about program objectives, book selection, sponsors, and history. Get ideas for programming in your own community!
---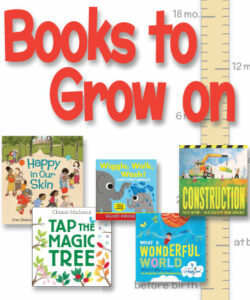 Beginning with a prenatal visit and then when a family welcomes a new baby, through Well-Visits from age 2 months to 4 years and up to entering Kindergarten, families receive a book as a gift from a respected professional in the family's life.
---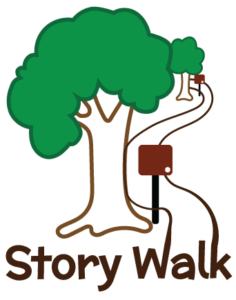 Take a walk through a book in parks within Tompkins County, NY. Children's book pages mark the way along a path you can explore with your child.
---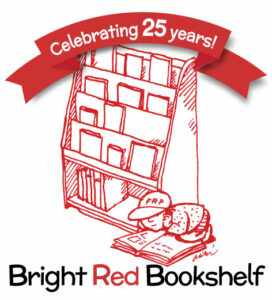 Gently used children's books are available free for families to take home on over 50 red bookshelves in the community.
---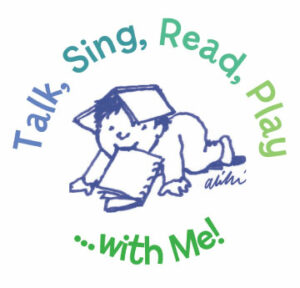 A special collection of engaging books and sensory playthings for infants up to 18 months old that is distributed throughout Tompkins County to under-resourced families.
---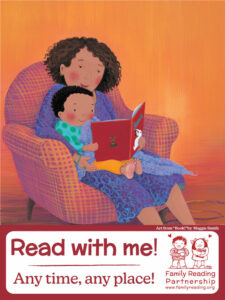 All across the community, billboard-sized banners with colorful images of reading together encourage and inspire families to read to their children.
---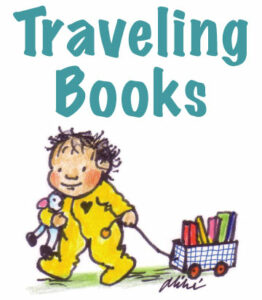 Program Currently on Hold!
Volunteer readers visit childcare homes and centers every 2 weeks with a crate of books they leave for children to enjoy until the next visit.
---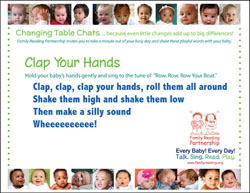 ---
Give your baby words with fun rhymes posted at changing tables in public restrooms around Ithaca and Tompkins County, NY.
"Thousands of books go off our Bright Red Bookshelf each year - many into homes where there had been none before."
— Dept. of Social Services
---

This initiative enhances existing programs that serve families with babies and adds new programming to deepen and strengthen the message to read to baby from the very start.
---

A 5K run held annually to benefit Family Reading Partnership, this event is held in memory of Mario St. George Boiardi, a former Cornell University lacrosse player and team captain.
Plan your own celebration of children's books and reading together with arts and crafts, performances, book stations, and storybook characters in costume. Download ideas!
This engaging book, DVD, and CD set uses music, motion, and colorful illustrations to teach letter recognition and letter sounds.
Read aloud every day for one month in your classroom or family to instill a love of reading in your children. Lots of activities and book suggestions.
Use your grocery shopping time to engage your baby or young child with word play. Pick up a Shop for Words card as you enter the grocery store and find words as you shop.
Want to give local families more books at the holidays? Collect new books and distribute them using the networks in your community that already serve families.
Read about how singing makes language accessible to people who may not have strong literacy skills.
Head Start families receive a children's book at a home visit and support and encouragement to make read-aloud part of everyday family life.
Read-Along Love Songs
Income eligible expectant parents are given a bag of board books for their baby with a CD of the books being read and sung. Home visitors support the family by encouraging readying to baby as soon as it is born.