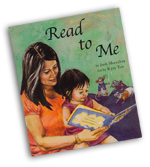 With Read to Me by Judi Moreillon, illustrated by Kyra Teis, and Baby Read-Aloud Basics by Caroline Blakemore and Barbara Weston Ramirez
A partnership project of:
Family Reading Partnership
The Ann Halpern Book Fund
Our Community
Area Obstetricians and Midwives
Overview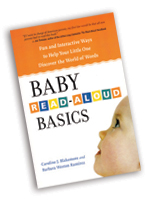 Families expecting a baby receive the children's book Read to Me by Judi Moreillon and a bookmark emphasizing the importance of establishing read aloud traditions at home, beginning before birth and continuing after the baby is born. Families also can learn about reading to babies with the book Baby Read-Aloud Basics by Caroline Blakemore and Barbara Weston Ramirez, that is available in the waiting rooms of all the Obstetricians and Midwives.
Objectives
Increase book ownership by families.
Educate parents about the importance of reading aloud to babies.
Encourage the establishment of read aloud traditions in homes.
The Books
Read to Me is a board book that will grow with baby. The rhyming text will engage an infant with its sing-song quality and carries the important message for parents that reading to your child is a way to love your child. As the baby grows to a toddler, he or she will come to understand the story in the book and appreciate all the babies, children, and grown-ups portrayed by artist Kyra Teis.
Baby Read-Aloud Basics by Caroline Blakemore and Barbara Weston Ramirez in a very practical guide about what to expect when reading to a baby. How does an infant respond to a book? What should you read to a 2 month old? What strategies are useful when reading to a 6 month old? It's all in this guide to reading aloud to babies, including all the wonderful things that happen to a child when he or she has the benefit of hearing language and words starting as an infant, when the brain is growing faster than at any other time in life.