Get Involved
We invite your participation in any way that you are able. Our strength comes from all the different ways we work together to create a culture of literacy. If you would like to talk to us personally about an idea, call us at 607-277-8602. Thanks for your involvement!


We count on the support of the community so that we can reach all families with books and encouragement to read together. You can give a financial contribution to our cause by becoming a member or giving to the Annual Campaign.
Do you have books taking up space in your attic? We'll put them to good use! Along with giving families beautiful new books, we gather "gently-used" books collected in red crates throughout our area and re-circulate them into the community for families to own.
Family Reading Partnership volunteers make a difference! Find out how by calling us at 607-277-8602 or using our contact form to express your interest.
Early Childhood Specialist: Employment Opportunity
Posted April 19, 2017
The Family Reading Partnership is requesting proposals from qualified individuals to serve the agency as Early Childhood Specialist, on a contract basis, for an estimated 10-15 hours per week/40-60 hours per month.
Family Reading Partnership is a not-for-profit organization serving families of young children aged 0-5. We promote and support engagement of families, schools and the community around children's books to create a culture of literacy. Family Reading Partnership provides families with the knowledge, resources and support needed to inspire them to weave reading aloud to their babies and children into their daily lives.
Proposals are accepted through May 31, 2017. See the write-up for an Early Childhood Specialist for more information, RFP submission information, and details.
"I was so excited after reading your newsletter that I couldn't wait even one more day to start supporting you through our family membership."
– A. McQuade, editor, writer

Emma, Sage and Henry make a circle of books, then Sage reads them all to the little kids!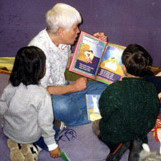 A volunteer reads quietly to children.

Volunteers paint Bright Red Bookshelves.