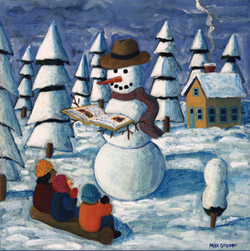 Books About Winter
When it looks like cold, snowy weather is here to stay, curl up with your children and some books and warm your soul! Reading aloud is a wonderful way to spend time together.
Click here to download the full winter book list!
Some favorite children's books about winter:
"Snow Day!" by Lester Laminack, illustrated by Adam Gustavson.
We've all gone to bed when snow is falling, expecting that in the morning we'll see mounds of white outside and hear the muffled rumble of snow plows clearing the streets. We've all anticipated snow days… but things don't always happen as planned!
"One Winter's Day" by M. Christina Butler, illustrated by Tina Macnaughton.
Hedgehog is toasty warm on a blustery winter day wearing his red and orange striped mittens, hat, and scarf. (In the book they are actually fuzzy to the touch.) But, hedgehog sees that his forest friends are cold, so he gives his mittens to Badger, his hat to Otter, and his scarf to Fawn. When the weather clears, he sees that his friends have made him a red and orange striped nest!
"Stranger in the Woods" by Carl R. Sams II and Jean Stoick.
This photographic fantasy is about a snowman who is discovered by the woodland animals and used as a feeding station. The children who made the snowman keep supplying more carrot noses and birdseed on the ground to make sure the animals stay fed.
"The Snow Bear" by Miriam Moss, illustrated by Maggie Kneen.
This book has textured paper pages, so that children will be able to feel raised areas for animal fur, trees, and snow. The story is about little white bear looking for his mother. With the help of musk ox, moose, goose, hare, wolf and other friends, little white bear constructs a snow bear that looks like his mother sleeping. He thinks he may never find his real mother, but in the end they are happily reunited.
"danny*s first snow" by leonid gore.
A little rabbit has never seen snow before. When he sees bushes and trees covered in white for the first time, he sees them as the shapes of all kinds of animals. Little rabbit creates an imaginary play day for himself outside. The unusual illustrations are made with paint on a rough surface, which gives an effect like pointillism.
"Snow" by Uri Shulevitz.
First one snowflake and then another, is how it all starts. Whimsical watercolors depict an old European style village being covered in snow.
"All You Need for a Snowman" by Alice Schartle, illustrated by Barbara Lavallee.
Many children make a huge snowman with colorful clothing. Pictures are by the illustrator of "Mama, Do You Love Me?"
"Snowballs" by Lois Ehlert.
Snow creatures are shown on each page made in classic Ehlert-style collage using photographs of real objects. Strawberries for noses, raisins for eyes, corn kernels for mouths, nuts, buttons, fabrics, and hardware all go in to making a snowman, woman, boy, girl, cat, and dog. Typical of her other books, Ehlert adds a section of facts in the back about snow. She also includes photos of snowmen and a recipe for popcorn balls.