Start a New Holiday Reading Tradition
This holiday season include books and reading in your celebrations by adopting a Book on Every Bed as a tradition in your family. It's a wonderful tradition to begin, or continue, with your family. And it will create warm memories that extend through the years.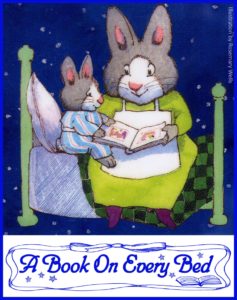 Here's all you do: After the children have fallen asleep on a winter holiday's eve, place a special gift-wrapped book at the foot of each child's bed. The children will awake to find a present they can open right away, beginning a special reading tradition they will love. Plus, it'll keep them in bed just a bit longer!
We have a rack cards (oversized bookmarks) in a few styles that you can download and use to promote this holiday book tradition in your own community. We welcome you to distribute widely and help the Book On Every Bed tradition grow!
Bunny Bookmark and Bunny Bookmark in Spanish (3 to a page, artwork by Rosemary Wells)
Snowman Bookmark and Snowman Bookmark in Spanish (3 to a page, artwork by Max Grover)
Holiday Bow Bookmark and Holiday Bow Bookmark in Spanish (4 to a page, artwork by Katrina Morse)
Bookmark with Ideas and Book List