Why are books a Super Power? When children listen to books read aloud, they learn about people, places, and how things work. They learn about emotions and feelings and how to use words to share their ideas. Hearing books read aloud starts children on a lifetime of learning!
Explore the tabs below for downloads and links to give you ideas and activities for making read-aloud a fun and exciting part of your classroom or home. 
Spanish versions of some materials are available under some tabs and also here:
Promesa del ninos, 10 Razones buenisimos, Actividad con hacer la mascara, y En Casa con Libros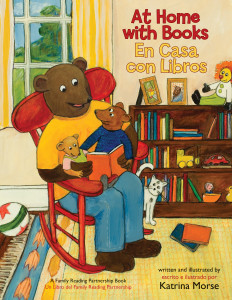 Order the bilingual (English/Spanish) edition of the Family Reading Partnership book "At Home with Books/En casa con libros" at the deep discount of $4.50 per book (for orders of 25 or more) to encourage more read-aloud at home. (retail price $8.95)
This is the story of the Bear Family/ la familia de los osos, who read books together all day with family and friends. Even Patches the cat listens in! The delightful illustrations are colorful and engaging.
This is a story for children, but has subtle messages for parents about how and why to read aloud. A wonderful tool for family engagement, this story encourages a love of read-aloud and books. Read-aloud tips are included in the back of the book.
Hear "At Home with Books" read aloud by the author/illustrator, Katrina Morse!
About the Author/Illustrator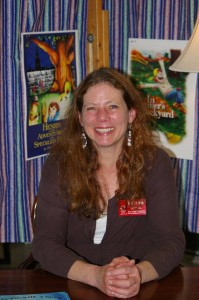 Katrina Morse likes to paint, create, explore, dance, and play with her cat. She lives in Ithaca, New York, where the beauty and diversity of the people and the natural world inspire her imagination. To find out about her children's books visit www.katrinamorse.com
Acerca de la Autora e Ilustradora
A Katrina Morse le gusta pintar, crear explorar, bailar y jugar con su gato. Vive en Ithaca, Nueva York donde la belleza y diversidad de las personas y el mundo natural inspiran su imaginación.
Para obtener más información sobre sus libros para niños visite:www.katrinamorse.com
About Family Reading Partnership
Family Reading Partnership is a national leader in community literacy efforts, promoting and supporting family, school, and community engagement around children's books and working to create a culture of literacy locally, regionally, and across the country.
"At Home with Books/En Casa con Libros" is one of many Family Reading Partnership initiatives designed to deepen and strengthen the connection children and families have with books- building not only the foundation for reading, but the foundation for a good life.
For more information about about our programs, and to find other products in our exclusive line of family literacy engagement tools, visit our website: www.familyreading.org
Quiénes somos en la Family Reading Partnership
Family Reading Partnership es una organización líder a nivel nacional en esfuerzos comunitarios de alfabetización que promueve y ayuda a familias, escuelas y comunidades involucradas en la promoción de libros de niños y que trabaja para crear una cultura de alfabetismo a nivel local, regional y nacional.
"At Home with Books/En casa con libros" es una de las muchas iniciativas del Family Reading Partnership – diseñada para profundizar y reforzar la conexión que tienen los niños y familias con libros – creando no solo una fundación para la lectura, si no también para una buena vida.
Para más información acerca de nuestros programas y para encontrar otros productos exclusivos para ayudar a familias a leer, visite nuestra página: www.familyreading.org