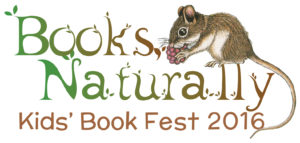 It's coming!! The premiere children's event of the area!
The 19th annual Kids' Book Fest will be held on Saturday, November 12, 10am-4pm at Boynton Middle School, Ithaca. This year's theme is NATURE, so you can look forward to activities all about animals, plants, and habitats. Pick up a pair of paper binoculars as you come into the Fest and search for different animal tracks! Meet your favorite storybook characters, who will be walking around the Fest, ready to read aloud. Make your own tree-shaped book, watch books come to life with performances by Ithaca College students, and check out your own library book at the Tompkins County Public Library on location.
Admission to this day of family fun celebrating children's books is free, thanks to an anonymous donor. Pasta lunch is just $3, or bring your own bag lunch. Park at Boynton or at Stewart Park and take the KBF shuttle to the Fest. Student artwork based on the Nature theme will be displayed throughout the Fest.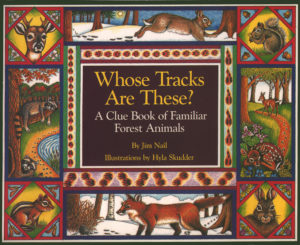 Thanks to funding from Wegmans, the US Fish and Wildlife Service, and area schools, nearly 4,000 children will receive the book "Whose Tracks are These? A Clue Book of Familiar Forest Animal" by Jim Nail with illustrations by Hyla Skudder.
Activity Highlights with stations by community partners:
Cayuga Nature Center is creating a room full of activities about nature in the four seasons based on the featured book.
Cornell Lab of Ornithology will be presenting a bird-habitat / bird migration display.
The US Fish & Wildlife Service will be installing their "Bat Cave" and teaching families and children all about bats!
Cornell Vet School's Canine Companions (dogs and maybe a llama!) will be on hand to listen to books read aloud by children.
Tompkins Community Action will create a room of Nature at Night.
Tompkins County Public Library will have their mobile library set up for families to read and check out books to take home.
Various Cornell clubs will present their critters for families to enjoy — bugs, squirrels, turtles, snakes, and more!
Call Family Reading Partnership at 607-277-8602 with questions.
Hope to see you there!