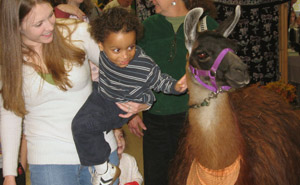 Books about Animals
Suggestions from the Family Reading Partnership
Compiled by Annette Birdsall of Finger Lakes Library Services, Cathy Currier of the Gathering Place and Mimi Schaffner, retired ICSD teacher.
Click here to download the full animal book list!
My Visit to the Zoo, by Aliki
Dear Zoo, by Rod Campbell
Inside a Zoo in the City, by Alyssa Capucilli
A cumulative rhyme featuring rebuses, in which a parrot, a tiger, a lion, a peacock, and other inhabitants of a city zoo wake up and startle each other.
One, Two Three to the Zoo, by Eric Carle
Zoo-Looking, by Mem Fox
Put Me in the Zoo, by Robert Lopshire
A large, spotted animal discovers he really belongs in a circus, not a zoo.
The Zoo Book, by Jan Pfloog
Goodnight Gorilla, by Peggy Rathman
An unobservant zookeeper is followed home by all the animals he thinks he has left behind in the zoo.
And Tango Makes Three, by Justin Richardson
At New York City's Central Park Zoo, two male penguins fall in love and start a family by taking turns sitting on an abandoned egg until it hatches
Wild About Books, by Judy Sierra
A librarian named Mavis McGrew introduces the animals in the zoo to the joy of reading when she drives her bookmobile to the zoo by mistake
Zoo Animals, by Brian Wildsmith