Story Walk program continues to grow!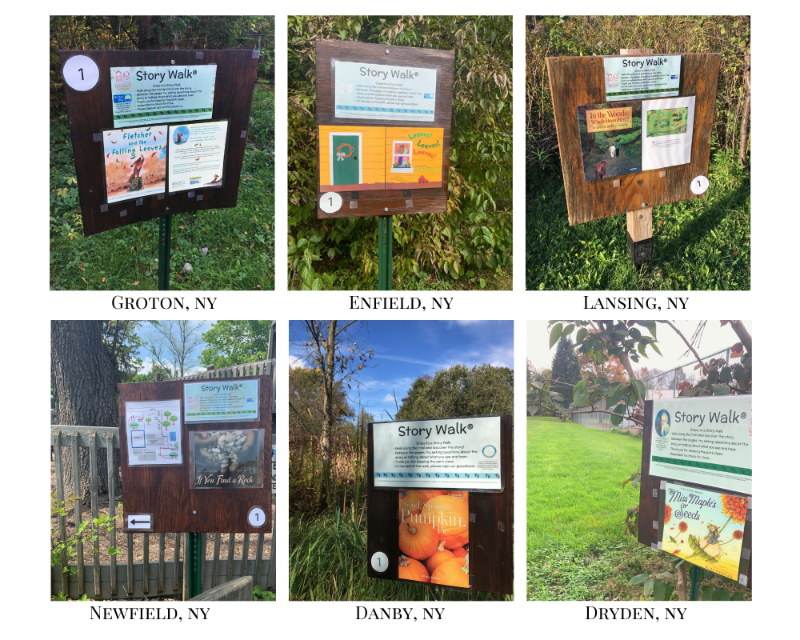 Family Reading Partnership's Story Walks have had a busy year! We now have six Story Walks in Tompkins County, and #7 is on its way to Downtown Ithaca. Each location receives a new book at least every three months, for a total of 24 different Story Walk experiences every year! Local families can make trips to each of the Story Walks over and over again for a new and exciting journey each time. New books have just been posted for Autumn, so get outdoors and visit these beautiful stories soon. For more information on Story Walk locations, etc. please visit the story walk section.
Welcome to School Books go home with local kindergarteners!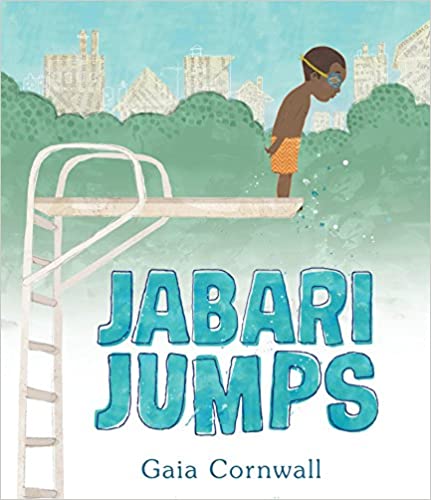 This fall, every incoming kindergartener in Tompkins County received a copy of the book Jabari Jumps by Gaia Cornwall. This beautiful book features a young boy, Jabari, on his journey to conquer a brave new skill: the diving board! Supported by his father, Jabari processes his emotions, and builds confidence and independence; experiences that most new kindergarteners can relate to! Families were also able to interact with the book in the great outdoors, as it was featured on 5 of the Story Walks during the month of September.
This year the Welcome to School Book was dedicated in honor of Barbara Cappucci, a beloved local elementary school teacher who passed away in January of 2020. Mrs. Cappucci cared very much about the role of reading in development, and she had quite an impact on our community's children. We are so grateful to M&T Bank and all of Mrs. Cappucci's family and friends for putting this gift in the hands of over 900 local students, as well as adding it to every local elementary school library!
When I tell a new local acquaintance where I work, their first reply is often: "Oh, they put up those banners!" Family Reading Partnership is indeed well known for our huge "Read To Me" banners hanging on local establishments. You may have noticed that these banners have become worn, and many have been removed due to weathering.
We have been working hard to revamp this program in recent months, and new banners are coming soon! We have slightly redesigned the banners, with one notable language adjustment. More and more research is pointing to interaction between caregiver and child as the most important characteristic of read-aloud in developing pre-literacy skills. Asking and answering questions, talking about the pictures, making sound effects together, and finding images within the illustrations are all aspects of quality read-aloud experiences. Our team knows this to be true, and we want to ensure that parents and caregivers grasp the difference between reading "to" children and reading "with" children. The new banners will now use the wording "Read with me" to highlight that reading aloud is a two way street!
Are you interested in sponsoring a new Read with me Banner in Tompkins County? Please reach out to our Director, Amber Smith, at amber@familyreading.org