Bright Red Bookshelf To-Go
Board Book Bundle
These bundles contain three different board books perfect for infants and toddlers.
---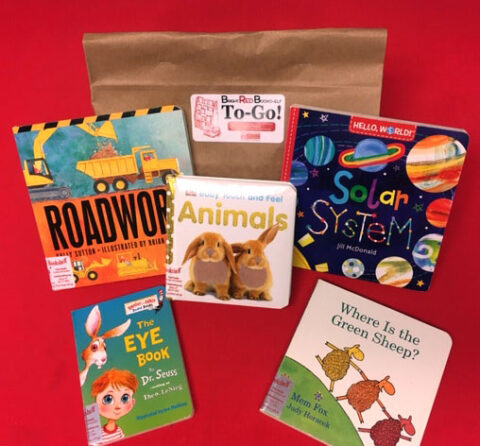 Picture Book Bundle
These bundles contain three different picture books that are just right for any child up to 5 years old.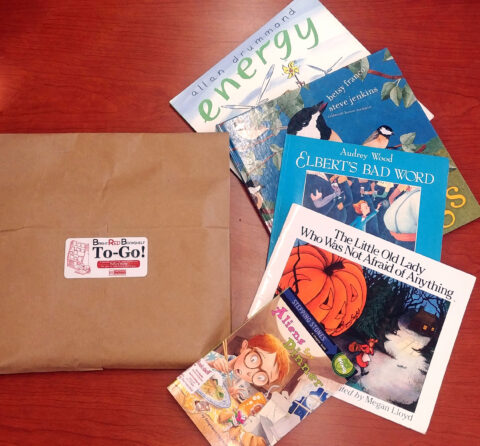 Due to the COVID-19 pandemic, we have had to temporarily close our Bright Red Bookshelves. These shelves are one of the main ways that Family Reading Partnership has re-circulated children's books in Tompkins County for over 20 years, and they are sorely missed by many local families.
In order to ensure the safety of our community, we are not able to place books out for families to choose from, as shared surfaces could lead to virus transmission. But we have a solution!
Starting in November we will be launching the BRB To-Go program! Our team will be packing up bundles of books in clean paper bags and making them available to community members in a variety of ways. Families will receive 3 books in each bundle, and bags will be separated by either board books (for infants and toddlers) or picture books (for children up to age 5). These books are for families to keep, though they can be returned to FRP if they are still in good condition when a family is finished with them.
BRB To-Go bundles can be picked up at our offices, at 54 Gunderman Rd in Danby, from 10am-4pm Monday through Friday. We will also be making special appearances at  locations where families need to be, like food pantries and human services agencies, maybe even your local grocery store! We will post on social media when and where we will be handing out books. We ask that families please wear masks and observe social-distancing guidelines.
We are happy to have individuals come pick up bags for your own family, to leave on the doorsteps or friends and neighbors, or for agency representatives to take bags to distribute to your clients. If you are looking for a large quantity of books, please contact us in advance. We may be able to arrange for delivery and/or may not pre-package the books into bundles, but instead give you a box of books to distribute however works best for you.
Our only request is that bundles not be left unattended for self-service pickup. We are concerned that the bags will be opened and rifled through, increasing potential contamination and virus spread. This is the only reason that the Bright Red Bookshelves themselves are closed, and this new program is intended to get books to individual families with no health risk involved 
Give our office a call if you have any questions or would like to set up a large order! 607 277 8602 or office@familyreading.org