Brigid Hubberman, Founder and Executive Director of Family Reading Partnership 1997-2015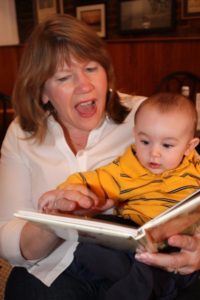 In 1994, as a family educator with the TST BOCES "Family Reading Program," in Tompkins County, NY, Family Reading Partnership founder Brigid Hubberman worked to encourage families to read to their children as they waited at their WIC (Women, Infants and Children, a federal nutrition program) appointments. By sharing beautiful children's books she was modeling the fun and importance of reading aloud to children. Yet, Brigid was concerned that when they finished their WIC appointment families left empty handed, without the resources to develop their own read-aloud routines at home. This spurred her to partner with others in the community to begin the "Give the Gift of Family Reading" program, so that WIC families could enjoy the benefits of book ownership and weave books into holiday traditions by selecting new books to give to their children as holiday gifts.
Through engagement with families at WIC Brigid found that she could tell which children had experience listening to books, even in children as young as two-years-old. In 1995, she was inspired to find a way to empower all families with the message: "It is never too early to start reading to children," to encourage families to read to their babies right from the start. When Brigid proposed creating a partnership to give books to every baby born in Tompkins County, Cayuga Medical Center and Tompkins Trust Company were eager to collaborate to start "Project First Book," later renamed "Welcome Baby."
Building on this success, Brigid was determined to forge partnerships across the community to "create a culture of literacy" that would ensure early, frequent, and pleasurable experiences with high-quality books for all children.
In the Spring of 1997 she worked with the Franziska Racker Centers as they hosted a "Caring Community" conference, where a diverse group of community members imagined a culture of literacy and brainstormed strategies to work together to ensure that every young child in our county would have books at home and be read to by a loved one, as a special part of everyday family life.
Through Brigid's leadership the numbers and commitment of the small group grew and in the fall of 1997 became Family Reading Partnership. With a start-up grant from the Park Foundation and administrative support from TST BOCES, the new community coalition launched the "Bright Red Bookshelf." This new initiative began with building a single bookshelf, designed to both collect and give gently-used book donations free for families. Over time the number of red shelves grew to more than 50, with more than 10,000 free children's books recirculated into the homes and lives of area families each year.
In 2001 a dedicated group of volunteers helped Family Reading Partnership officially incorporate as a not-for-profit, 501c3. The organization has grown to be one of the most beloved and high-impact organizations in the region, weaving books and family reading encouragement through the fabric of the community, enriching the lives of every child and family in Tompkins County, New York.
Brigid served Family Reading Partnership as Executive Director from 1997 until 2015. Under her leadership the organization created more than 14 innovative programs and involved more than 200 businesses, schools, libraries, medical offices, and community organizations in placing more than 35,000 books annually into children's lives and homes, with encouragement to make books a special part of everyday family life.
Long at the forefront of community literacy initiatives in the country, many other communities and groups across the country have been inspired by Family Reading Partnership and have adopted FRP programs. Others have started their own literacy organizations based on the comprehensive community-wide model Brigid developed: giving books and support to all families through the networks already in place in their communities – a model that increases the ability to reach all families with the greatest impact.
Brigid's passion for, and commitment to, creating a culture of literacy now continues beyond Tompkins County as she works at the state and national level to share her 20 years of knowledge and expertise with literacy organizations, libraries, schools, and communities that are working together to ensure all children experience the joy of books in their young lives and families.
• August 2016 •
Brigid can be reached via email at Brigid.Hubberman@gmail.com