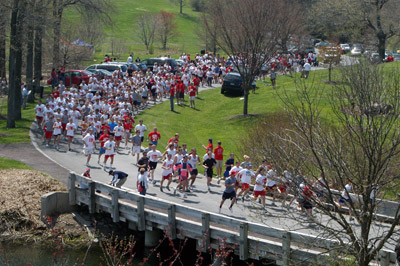 21 Run
Hundreds of runners participate in the annual 5K run in memory of #21 Cornell Men's Lacrosse player George Boiardi each spring at Cornell Botanical Gardens (previously called Cornell Plantations). If you want to be involved or need more information email us!
See photos from the 21 Run in 2016!
A partnership project of:
Cornell Men's Lacrosse Team
Boiardi Foundation
Individuals, families and businesses in our community
Project Background
On a beautiful spring day in May 2005, hundreds of people gathered at Cornell Botanical Gardens to honor the memory of the late Mario St. George Boiardi, a great Cornell Men's Lacrosse player (jersey #21) and team captain, and an extraordinary human being. While the crowd of runners sped off on a 5K course, families with young children took a quiet stroll along the 1K Story Walk set up by the Family Reading Partnership.
Young Boiardi died unexpectedly in a lacrosse game in 2004. Exceptional in many ways, he intended to dedicate his life to teaching and planned to head off after graduation to a South Dakota Indian reservation to work with children. George's fellow lacrosse players planned this annual event to benefit local literacy efforts including the Family Reading Partnership.
Overview
Students and other individuals collect pledges and then participate in a 5K run, with proceeds going to benefit local literacy efforts. Families with young children can enjoy the day by hearing lacrosse players read books aloud and making their own books to take home. Local businesses donate food and prizes.
Objectives
Raise awareness of the benefits of reading aloud to children
Carry on the good will of #21, George Boiardi, in connecting children and families with books
Raise funds so that books can be given to local children